William Griffith
(1866-1940)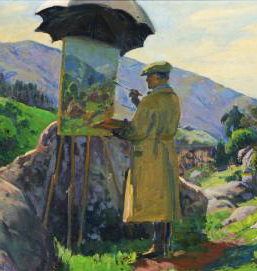 William Griffith first visited Southern California, and two years later moved to Laguna Beach, where he served as President of the Laguna Beach Art Association.


Griffith was captivated by the beauty of Southern California. He was a prolific landscape and coastal painter.
Biography
WILLIAM GRIFFITH (1866-1940)
William Griffith was born in Lawrence, Kansas on August 19, 1866. He studied art at the Washington University in St. Louis and in 1890 furthered his art studies in Paris at Academie Julian under Constant and Lefebvre. Returning to his native state, hGriffith taught art for over 20 years at Kansas University. In 1918, while on a sabbatical leave, he visited his old friend and former classmate, Benjamin Chambers Brown in Laguna Beach. Two years later Griffith moved to Laguna Beach where he became an influential member of the art colony and served as president of the local art association. Before his move to California, William painted many portraits, but soon turned his attention to the surrounding landscape. Working in oil and pastel, Griffith also painted many beach scenes and marines. He died in Laguna Beach on May 25, 1940.
William Griffith bio courtesy Edan Hughes.