In the past few years a renewed interest has developed in the American representational art movements that took place in the first half of this century, with particular emphasis on the American Scene or Regionalist art of the 1930's. The California Style played a key role in this movement, and made contributions that had a nationwide impact

The California Style of watercolor painting which flourished from the mid-1920's to the mid-1950's gave the traditional watercolor medium a bold new look.This new representational art, defined by a large format, free broad brush strokes, and strong rich colors, documented scenes and activities of everyday life on the Pacific Coast. California's cities and industrial sites, its beaches and harbors, and its vast open landscapes were interpreted by hundreds of artists using innovative new approaches to watercolor painting.
George Post
Rincon Hill
At the turn of the century Paul de Longpre, H. W. Hansen and William Ritschel were among the leading watercolor artists working on the West Coast. Soon afterwards Marion Kavanaugh Wachtel, Francis McComas, Percy Gray, Carl Oscar Borg, and William J. McCloskey also settled in California. All of these artists had studied in Europe or New York and for the most part used traditional European watercolor techniques. This usually involved making an elaborate pencil drawing which outlined the detailed areas of the composition, and then carefully applying colors to give a very tightly rendered appearance to the final work. These artists generally painted representational depictions of Southwestern landscapes and still lifes.
In 1921 Marion Wachtel, Carl Oscar Borg, William Ritschel, John Cotton, Edouard Vysekal, Charles L.A. Smith, Crafts Watson, Max Wieczorek, Karl Yens, Donna Schuster, Henri de Kruif, Hanson Puthuff, Birger Sandzen and Dana Bartlett formed the California Water Color Society. They held their first annual exhibition at the Los Angeles Museum of History, Science and Art that year.

Membership in the organization grew throughout the 1920's and they began sending their annual Southern California exhibitions to museums and art centers in other parts of the Southwest. Some of the Society's founding artists, particularly Henri de Kruif, Donna Schuster, and Edouard Vysekal contributed watercolors inspired by European modern art movements. These gave the early exhibitions some variety, but overall the only characteristic that identified these works as a California product was the depiction of landscapes unique to the region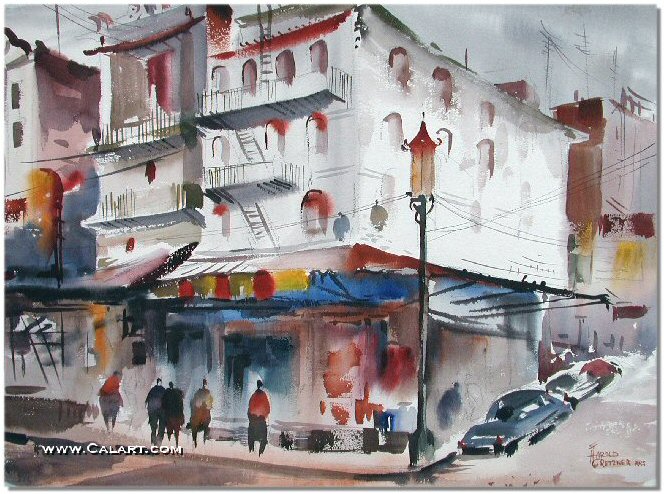 Harold Gretzner
China Town

In the late 1920's a major change took place within the California Water Color Society. A group of young artists, many still studying at the Chouinard Art Institute, joined the Society and began exhibiting what became known as the California Style of watercolor painting. Millard Sheets, Phil Dike, Lee Blair, Tom Craig, Barse Miller, Paul Sample, Hardie Gramatky, Emil Kosa, Jr., James Patrick and Phil Paradise were among the earliest exponents of this new style.

They painted boldly and directly, with little or no preliminary pencil sketching, while mastering the technique of allowing the white paper to show through as an additional shape or color. By the mid-1930's these artists added an additional trademark by working on large fullsheet pieces of paper, 20" x 30" or larger.
Art critics, museum curators and people all over the country began to take notice of these fresh, bold, regional views of the Pacific Coast

Several of these young artists became active on the board of directors of the California Water Color Society and fostered an environment favorable for the reception of the new California Style. They established a series of annual exhibitions which traveled regularly to museums and galleries throughout America.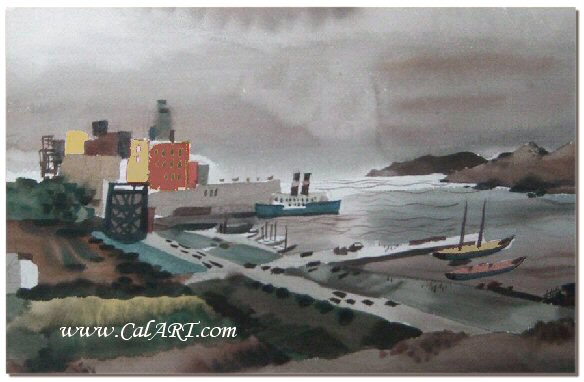 Dong Kingman
Harbor View

In addition, they individually sent paintings to many major California and national shows. Phil Dike and Millard Sheets, two of the most influential artists in this early group, had been showing their work nationally since the late 1920's and had received major awards and favorable press coverage.
In 1932 Lee Blair won the Gold Medal at the Los Angeles Olympics for awatercolor painting with a sports theme. The favorable publicity that followed helped to focus additional attention on California watercolor artists. For the first time in the state's history a regional art movement was receiving national recognition and influencing artists all over the country.

During this period, most of the artists in this group produced American Scene or Regionalist works of art, depicting local people in their suburban living environments, factory workers on the job, busy downtown city scenes, farms, ranches and beach scenes. All these subjects were available in the Los Angeles area and, with the pleasant Southern California weather, could be painted outdoors the year around.

In Northern California most of the noted watercolor artists were located in the San Francisco area

Dong Kingman and George Post painted scenes in the city itself. Maurice Logan, a well established illustrator and fine artist, often won awards in this period for his rich wet into wet paintings of fishing villages. Nat Levy, a dedicated Regionalist artist, traveled regularly to the coastal towns near Mendocino where for fifty years he produced paintings of this scenic area.

The development of the California Style of watercolor painting was furthered by the fact that the number of artists working in this medium was relatively small, and most of the artists knew each other and worked together. In some cases they had been friends since childhood, and while attending art school often went out on location and painted in groups.
This was both artistically stimulating and socially satisfying, sincethey shared painting techniques and worked out the problems of producing finished works in a single painting session. After college most of them continued to paint in small groups or at least worked with one other artist. Ideas and problems relating to technical procedures were bounced back and forth, an activity that often helped improve the quality of their distinctly different approaches to similar subject matter.
Duncan Gleason
Train Depot
The California Water Color Society steadily grew and by the mid-1930's had several hundred members. The new members included Rex Brandt, Milford Zornes, Mary Blair, Ejnar Hansen and Standish Backus, Jr. Their fresh works of art complemented those of the other members and added vitality to the annual traveling exhibitions.

In 1937 an art promoter named Lawson P. Cooper selected twelve artists from California, named them the California Group and assembled a traveling exhibition of their watercolor paintings. The artists in the group were Lee Blair, Millard Sheets, Phil Dike, Rex Brandt, George Post, Milford Zornes, Paul Sample, Barse Miller, Tom E. Lewis, Everett Gee Jackson, Paul Mays and Tom Craig. In addition to curating the shows Cooper lectured on the radio about the artists and their works.

This generated a great deal of attention, particularly in the eastern United States. Their paintings received rave reviews from the New York press and subsequently the Metropolitan Museum and the Whitney Museum of American Art purchased works by these California watercolor artists. Frederic Whitaker, an internationally acclaimed artist from the East Coast, wrote the following about the effect of the California Group exhibitions: "As a result of the venture, the Riverside Museum in New York ran biennial exhibitions of paintings by the California Water Color Society artists during the following decade. The purpose of the California Group exhibitions was to emphasize throughout the country the uniqueness of the art being produced in California. Its series of exhibitions has exerted a profound influence on the course of the California School".

The majority of these artists were elected into the American Watercolor Society and some became members of the most prestigious art organization in America, the National Academy of Design. Both organizations held annual shows for their members, which helped introduce West Coast artists to the public in the East, and helped lead to the acceptance of California artists by the East Coast art community
There was a great deal of new support on the West Coast as well. In addition to the California Water Color Society shows which started their American tours in the Los Angeles area, the San Francisco Museum of Art and the Oakland Museum of Art began a series of annual watercolor exhibitions in the 1930's. A number of Los Angeles art galleries, including the Dalzell Hatfield Gallery, the Stendahl Galleries, and the Cowie Gallery also frequently held shows that included works by local artists.
Although all this attention was inspiring to the artists, few could make a living from selling watercolor paintings through galleries and exhibitions in the depressions years of the 1930's. The W.P.A. arts projects commissioned some of them to produce paintings and murals for public buildings. Others found employment as teachers and commercial illustrators, but by far the greatest number were employed by the thriving motion picture industry. The studios made large numbers of feature films which needed many artists for pre-production sketches. These were used by designers and carpenters to build the sets, and then by the directors for use during filming.

The animated film business also was rapidly growing. Walt Disney Studios, in particular, hired some of California's finest watercolor artists to paint background illustrations for their cartoon shorts and feature films. Fantasia, Snow White and Pinocchio were some of the classic films they worked on during this period.

To get ideas for their paintings, they visited zoos, circuses, farms and ranches to get what they called the "smell" of the place. While on location they made watercolor sketches of animals, interesting people, and landscape subjects, taking them back to the studio for reference. This not only added authentic character and substance to the films, but also afforded the artists an opportunity to sharpen their painting skills while earning a steady salary. Preston Blair, Hardie Gramatky, Elmer Plummer, Mary Blair, Charles Payzant, Ralph Hulett and Claude Coats are all familiar names in this field.
In the late 1930's America's interest in the representational California Style of watercolor painting was at its height. In addition to the publicity previously mentioned, a number of California artists had works exhibited in the 19 39 New York Worlds Fair, which featured a section entitled American Art Today. Many of them also were being represented by galleries throughout the United States, and nationally distributed art magazines established regular columns discussing current West Coast art and artists.
Barse Miller
California
World War II put a halt to the momentum this art movement had generated. Many of the artists went into the service or into service related work. Some of them became official war artists, and were sent to battle locations where they made watercolor paintings. These were published in magazines such as Life and Fortune, and then became part of government files. Other artists produced training films, illustrated instruction manuals and technical drawings for the aircraft industry. Artists who served as soldiers frequently took along art supplies and painted small watercolors of the areas they visited, but for various reasons very few of these paintings survived.

When the war ended many California artists from the 1930's returned to the West Coast to find that the art scene was rapidly changing. Thousands of veterans used the G.I. Bill to get an art education, so the established art schools were packed with enthusiastic students. Also, a number of European artists had fled their homeland before and during the war and had settled in California. There were at least double the number of artists living, working, and exhibiting in the state than before the war.

Another major change was that both the newly educated artists and the public became increasingly interested in more abstract styles of painting.

A few California artists had been developing abstract styles for many years, but it wasn't until the post-war period that this art form received acceptance on the West Coast. Clarence Hinkle, once called the "neglected dean of California modernists", began to receive much more favorable publicity, as did Nick Brigante, George Post, Dan Lutz, James Couper Wright, Keith Crown and Alexander Nepote. Stanton McDonald Wright, co-founder of the internationally acclaimed abstract style known as Synchromism and a teacher in California, became a key figure in the development of abstract art on the Pacific Coast. Most of the works these artists produced, especially during the late 1940's and early 1950's, depicted recognizable subject matter within highly stylized or abstract compositions.

Throughout this period Millard Sheets, Phil Dike, and Rex Brandt continued as leaders of the California watercolor painting movement. They explored a number of different individual styles and exhibited works internationally. The private watercolor workshop classes they started at this time were immediately successful, and gave many fine young artists a chance to sharpen their artistic skills. In addition to being exhibited in art galleries and museums, the postwar watercolor paintings of these artists were reproduced on magazine covers. This served to reaffirm and increase public awareness of California watercolor art.

In Northern California a group of artists known as the Berkeley School began to have a great influence on art in that region. They produced an entirely different style of watercolor painting by combining areas of opaque paint with transparent washes. Often calligraphic drawing and outlined images were incorporated with experimental colors and unique textures. John Haley, a well known art professor at the University of California, Berkeley, was the first to receive acclaim for this style. Other prominent artists who produced outstanding works were Erle Loran, Doris Miller Johnson, Karl Kasten, Mine Okubo and Virginia Belle Gould.

As abstract art began to dominate watercolor exhibitions, artists who wanted to preserve the original California Style of representational painting began to form new small groups. The Thirteen Watercolorists, including Maurice Logan, Nat Levy, Rene Weaver, and Harold Gretzner was one of the most successful. They were based in the San Francisco area and held most of their exhibitions there. In Southern California Emil Kosa Jr., George Gibson, Ralph Hulett, Charles Payzant, and Standish Backus Jr. continued to develop and refine their original styles to the point of being absolute experts at painting representational watercolors. Their work continued to have an enthusiastic
following, and several galleries exhibited their works regularly. A number of these artists dropped their membership in the California Water Color Society during this period and were accepted as members of the more conservative American Watercolor Society.
Gradually through the 1950's watercolors that were accepted for exhibition in the established West Coast shows became primarily abstract expressionist works of art with little or no recognizable subject matter. Often they were painted with acrylics or other water based mediums. Paper collage also became acceptable when combined with a watercolor painting. All of these factors helped distinguish this as the beginning of an entirely new era of watercolor painting in California, a style that has steadily continued to develop.

The preceding article was taken from "The California Style" by Gordon McClelland & Jay T. Last. It has been posted with the written permission/consent of the author. Copyright 1985, Hillcrest Press, Inc.